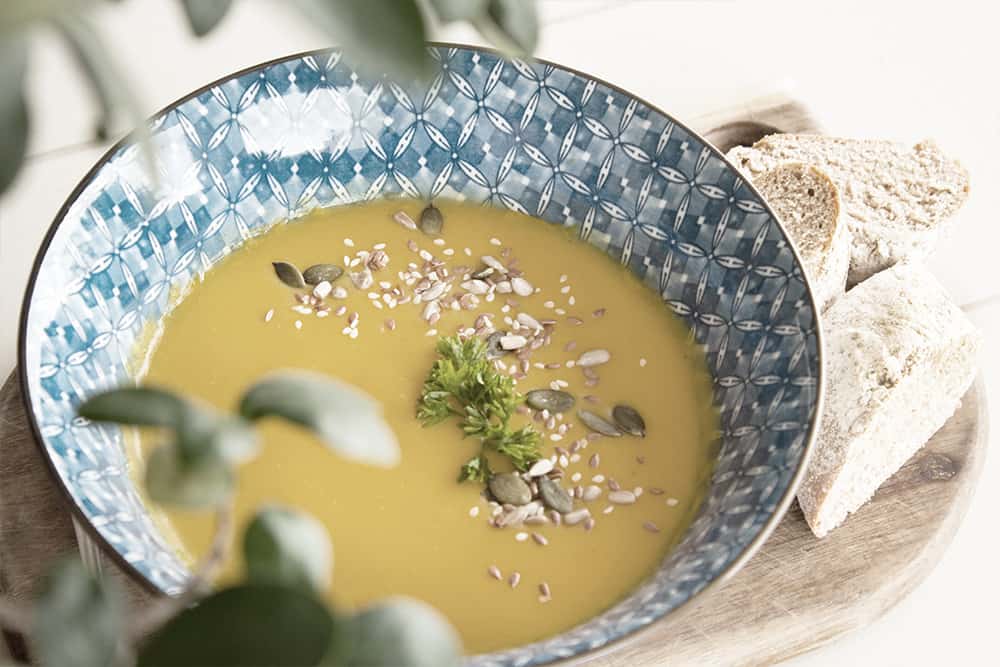 The LifeCo's Ketogenic (raw plant-based) Healthy Diet program is a nutrition plan in which the body gets all its energy from plant-based fats instead of from sugar and carbohydrates. This program has numerous benefits such as protection from cancer and support during post-cancer treatment, protection from cardiovascular diseases, strengthening the immune system, detox/cleansing, creating an anti-aging and renewal effect in the body and healthy weight loss where muscles are protected.
The raw plant-based Ketogenic diet plan is completely raw vegan and works on the nutritional intake of 60-70% plant-based fats, 20-30% protein and 5-10% carbohydrates, with a total daily net carb intake of 12g. To get the most effective and nutritional benefits, all meals are raw and prepared using blenders, foods processors and special dehydrators at temperatures below 41°C.
Daily caloric intake is 1000-1200 calories. Because the body metabolizes medium-chain triglycerides (MTCs) found in plants, vegetables, fruits, and seeds more quickly and easily, ketone production happens more quickly. During the program, plenty of water must be consumed.
Net Carb = a food's Total Carbohydrates – Total Fiber
This way we ensure maximum enzymatic, vitamin, phytonutrients, oxygen and alkalinity potential being reached. This will allow the body to use less energy to digest food and absorb nutrients more effectively.
PROGRAM SCHEDULE
08:15 Morning Walk
09:00 Ketogenic Breakfast and 2 Digestive Enzyme Capsules
10:00 Yoga / Meditation
11:00 Measurement of Blood Sugar and Ketones
11:00 1 Glass of pH 10 Alkaline Water or Herbal Tea
12:00 Ketogenic Lunch and 2 Digestive Enzymes
14:00 1 Glass of pH 10 Alkaline Water or Herbal Tea
15:30 Ketogenic Snack
17:00 1 Glass of pH 10 Alkaline Water or Herbal Tea
18:00 Ketogenic Dinner and 2 Digestive Enzyme Capsules
20:00 1 Glass of pH 10 Alkaline Water or Herbal Tea
21:00 2 Probiotic Capsules
WHAT IS INCLUDED
Accommodation
Detox / Healthy Nutrition Program
Yoga / Meditation
Doctor Consultation
Body Composition Analysis
Nutrition and Diet Counseling
Nutrition and Diet Workshops
SPA, Fitness & Swimming Pool
Biophoton Therapy
Turbosonic Vibration Therapy
Infrared Sauna
Daily Steam Room Use
Daily Oxygen Therapy
Daily Colon Cleansing
*The Program Schedule and the Included Services may change slightly based on your center preference and seasonality.
Benefits of Ketogenic Program
The ketogenic diet was developed 90 years ago by Dr. Russell Wilder as a treatment for epilepsy. The diet contains very high amounts of fats, high amounts of protein and very low amounts of carbohydrates. It was used successfully until the 1940s. With the development of different medications and the rapid growth of the pharmaceutical industry, the diet lost popularity until the 90s. Recently, it has begun being used to support and speed up the treatment of different illnesses.
Helps With Weight Loss
It takes more work to turn fat into energy than it takes to turn carbs into energy. A ketogenic diet can help speed up weight loss because it takes more metabolic effort to use fat as the energy source than it takes to use carbs as an energy source. It also doesn't leave you hungry like other diets because of its rich protein content.
Improves Heart Health
When a proper preparation and a strict follow-up is in place, the ketogenic diet (NOT an animal-based one) can improve heart health by reducing cholesterol. Check this study showing that HDL ("good") cholesterol levels significantly increased in those following the keto diet. The LDL ("bad") cholesterol went down significantly.
Reduces Skin Problems
Skin problems can be caused by various factors, one of the most prominent ones is the diet and blood sugar problems. Blood sugar fluctuations are usually caused by a diet based on processed food and high carb intake. Therefore, by decreasing carb and sugar intake, it's not surprising that ketogenic diets improve skin conditions.
Helps To Protect Brain Functioning
Some studies suggest that the ketogenic diet offers neuroprotective benefits. Keto diets usually help treat or prevent conditions like Parkinson's, Alzheimer's, and even some sleeping disorders. There is an amazing study showing that children following a form of a ketogenic diet had improved alertness and cognitive functioning.
Reduces The Risk Of Cancer
A ketogenic diet causes more oxidative pressure in cancer cells than in normal cells. This study refers ketogenic diet as a suitable complementary treatment to conventional treatments such as chemotherapy or radiation. Ketogenic diet reduces blood sugar and this reduces blood sugar complications, which may be associated with some types of cancers.
Improves Mental Clarity
Green juice with chlorophyll does not only give you higher energy but also helps the optimization of your brain function. Your memory gets stronger and concentration gets higher after the absorption of fundamental vitamins and minerals.
Reservation Inquiry
If you would like to make an inquiry, please fill the reservation form. Once you submit the form, we will get in touch with you and inform you about our programs.
You can address your additional questions in the note box. Our reservation team will assist you to pick the right program.