Language: English
Time: private sessions upon inquiry
Stay time zome independent. If you register and can not join the class you will receive a link of the video for the next 24 hours.
SPINE THERAPY by RENATA
 Spine muscles, knots and tights elimination and relaxation
For physical healing, for musculoskeletal system and its problems, such as injures or arthritis. Physical practice activate blood circulation and helping toxins faster go out, benefits of the Asanas are fast calories burning, very good self stomach and inner organs massage, made your lower back stronger and straight your spine, good for the balance and concentration, for healthy good sleeping. Yet their benefits also extend through the circulatory system to the entire body, opening the channels for the flow of a deeper healing prana.
You will need eitje mandala or tennis balls.
ABOUT RENATA
Renata Citrons is a devoted yogi with over 17 years in the study, personal development and teachings of the yogic path. After an injury, she was inspired to try yoga as a alternative healing method and quickly realized that it was more than just Technics or postures and poses and that yoga was a very powerful personal development and lifestyle tool.
Renata brings not only her wisdom from having going through her own personal daily practice but also (numerous experiences) to enhance her teachings.
She is highly qualified in the World Yoga Alliance with certifications in Hatha Yoga, Yin Yoga, Power Yoga, Spine Therapy. She is also Mai Ram Yoga certified teacher. Her practice is dedicated to Guru Mai Ram Philosophy and Traditions. Renata is Aqua therapist, Sound Healing Therapyst and also certified in Reiki healing.
Renata is leading and hosting different retreats as "Joy&Wellness" at the LifeCo and " KARE" retreats for women ( co-founder). She has accomplished her studies all over the world from India, Bali, Moscow, Lithuania and Thailand.
Renata brings a combination of different tools to her sessions and retreats, combing meditation with yogic practices and other holistic methods like Sound Healing and massage therapy as a wide spectrum of high frequency instruments from around the world and she continues advancing her studies for love and compassion.
Through yoga she was able to heal her past mental traumas from childhood and become a more loving and connected human being and she is inspired to help others (along raising) her son, now aged 13. Credentials-
Renata was a semi pro athletic runner. She graduated from the « University of Culture and Art » in Moscow and from the « Fitness academy » at the Moscow, Vedic culture school.
She has lived and work in Hong Kong, Japan, Moscow, Lithuania, Sweden and now resident in Phuket, Thailand since January 2014 working at a listed detox center. Certificated by: WYA 200 hours (World Yoga Alliance), she benefit from a 15 years experience in Yoga, as developed, animated and finished many courses,workshops and retreats as a Hatha Yoga,Yin yoga, power yoga, meditation around the world (Hatha Yoga by Guru Dharam Thailand- Chiang Rai, Koh Phangan, Mai Ram Yoga tradition in India and Lithuania by Mai Ram Devi, for Sound healing therapy-Lithuania, Russia- Moscow, Indonesia- Bali, Spine Therapy with mandala balls by Denise Pain in Ubud-Bali) She is a seasoned Sound Healing Massage Therapyst – certified by the Art psychology school "Art to Be" by Alicija Eiliakas, She very is passionate about this therapy after finding out so many benefits and amazing results of it. also certificated as an Aqua aerobic teacher(by the Moscow Fitness Academy). Along with these talents, she has been certified in REIKI healing Level 1 by the Reiki Master Catherine Wheeler (certified by theCanadian Reiki Association). Finally, her Personal favorite is MANDALA painting therapy, that she learnt at Moscow Art&culture university.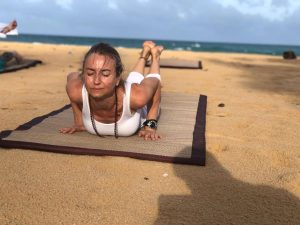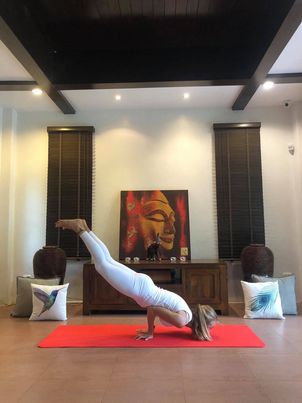 Language: English
To booking there are couple of  options:
A monthly subscripton for 108,- Euro, which will allow you additionally to join all the other live classes and watch the videos
or a subscription for 10 / 20 units for 150,- or 260,- Euros
You will find under the time schedule / online booking upper right hand side the option "PREISE"  find the appropriate subscription for you and send us an Email at info@ibe-travel.com
You will find under the time schedule / online booking upper right hand side the option "VIDEOS"  find the appropriate subscription for you and send us an Email at info@ibe-travel.com